The Big Lez Show Is One Of The Craziest Things You Will Ever Watch.
"The home grown Australian cartoon series created by Jarrad Wright, Izak Whear & Tom Hollis, filled with crude Aussie humour. The series follows the adventures of Big Lez with his get rich quick schemes, fights with his rival brother, drug trips with narcotic obsessed Sasquatches and many more troublesome situations he and his friends seem to find them selves in."-  The Big Lez show Official
 The first episode will leave you with more questions than answers. With its old fashioned animation style, the creators draw every frame. Jarred Wright a co-creator is responsible for the voices of your favourite character, he also get help from friends. The show has its home on YouTube and the video length's vary with normal episodes being around ten minutes long. However, special episodes are longer.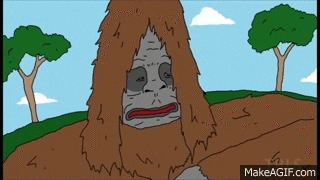 The show stars Big Lez an alien from another planet with a son called Quinton , who hangs around sasquatches who take a  inhuman amount of illegal drugs. Also, we cannot forget the choomahs. These resemble what Homer Simpson would look like if he was badly drawn. 
The humour on the Big Lez show stems mostly from the dialogue of the characters. One of the sasquatches  'Sassy'  has the catchphrase of "you fuckin druggo". Each of the characters has their own personality and catchphrases, which means there is never a boring episode as not all the characters are always in the same episode.  Due to the popularity of the Big Lez show, there is also a spin off revolving around the day to day life  of the character Mike Nolan. Mike Nolan is a friend of Big Lez and his days consist of the odd jobs he does to make a living which leads to hilarious encounters, especially the first episode where he has a stand-off with a police officer. 
Season 4 of the show has just began, and there hasn't been an appetite for the show like this ever, it seems as though everyone wants to tune in to see what their favourite drug loving Australians are doing.  So make sure to check it out at here, its skits!
Find your phone often running out of battery? Check out our article on how to 'Super Charge' your phone in less than five minutes.