Morgan is a quintessentially British automaker, their cars are famous for their sweeping wheel arches and low slung bodies.  
Morgan have revealed they plan to end their Aero 8 line, and they leaving with a bang. We can only describe the Aero 8 GT as a love letter to the motoring industry.  
It is a car 100 years in the making. 
The original Aero 8 was first released in 2001, the design was a bold move — it was a car most people either hated or loved, the marmite of the car world.  The Aero 8 was Morgans first new model in the 21st century, and to some extent we can say it did not age well.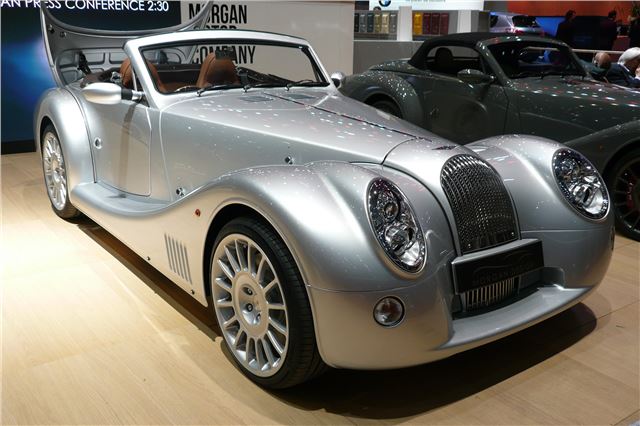 When Morgan revealed the Aero 8 GT at the Geneva Motor Show, they showed that they have learnt a lot in the past 100 years. Convention and subtlety were thrown out the window , this time Morgan's bold move to design a car that is completely unlike anything else on the market has paid off in spectacular fashion. 
 Money talks
The Aero GT will set you back £120,000 but for this price you are not just buying a car, you are buying a piece of British history. Only eight of these cars will be produced, under the hood Morgan continue their relationship with BMW V8 engines.
If you have scoffed at the price, please note that each GT will be engineered by the Morgan Special Projects department, after your in-depth discussion with Morgan's head designer. Hence, each GT on the road will truly be one of a kind.  
A handcrafted masterpiece.
Everything — from the panels to the paintwork will be handcrafted. The interior team will also have a tough job with painted stitching and pinstripe accents on the wooden interior. The GT's badge, will be made by an in-house jeweller.  
Not just a pretty face.
The perfectly contoured curves on the GT are not there just to ogle at, under the hood is the same 367bhp V8 you find on the standard Aero 8.  But exceptional engineering and enhancements to the aerodynamics makes those horses go the extra mile. 
Note the wing top louvre vents, adjustable suspension and a dramatic rear diffuser — which all combine to drastically improve downforce. 0-62 mph only takes 4.5 seconds and a top speed of 170mph is enough to give any petrol head goosebumps.