We have found the fastest cars  police forces in the world, there is no outrunning any of these forces.  And don't worry we won't dedicate this entire list to the UAE because their collection of luxury police cars is just ridiculous.
6. Lexus IS-F – (UK) – 4.7 seconds; 168 mph
This car was built to help the British police to be able to tackle crime on its highways. With a top speed of 168 this car can easily keep up with most cars on the road. Used in northern England by the Humberside Police, this 416 horsepower beast's primary role is acting as a deterrent, but when needed it is able to run down criminals and speeder is high-end sports cars. 
5. Ariel Atom (UK) – 2.5 seconds; 168 mph
The UK takes another spot on this list, the Ariel Atom is one of the most unique cars on the road. Despite being built to perform and look like a F1 car it is road legal. The Atom is used by authorities in Avon and Somorset who probably like the fact that the car goes 0-60 in 2.5 seconds.  
4. Audi R8 GTR (Germany) – 3.2 seconds; 202 mph
The Germans have cemented their position as one of the finest auto makers in the world, so it only makes sense their police force would be would be an extension of this. German company ABT Sportsline outfitted the R8 GTR specifically for the police department, and even suped-up the 5.2-liter V10 engine to be able to make 620 horsepower, above the standard 518. The car has not yet been on patrol and to be honest is just there to advertise Audi but criminals better move weary because the police department may have to let those 620 horses run.
3. Lamborghini  Huracán LP 610-4 (Italy) – 2.5 seconds; 212 mph 
The Italian police department must have been ecstatic when they received a delivery of a Gallardo donated by Lamborghini themselves as an anniversary gift celebrating the department's 152nd anniversary in 2004. So imagine their surprise when they were once again gifted with the Huracán. The Huracán was named "The Supercar of the Year 2014" by automotive magazine Top Gear.
2.  Brabus Rocket (Germany) – 3.2 seconds; 225 mph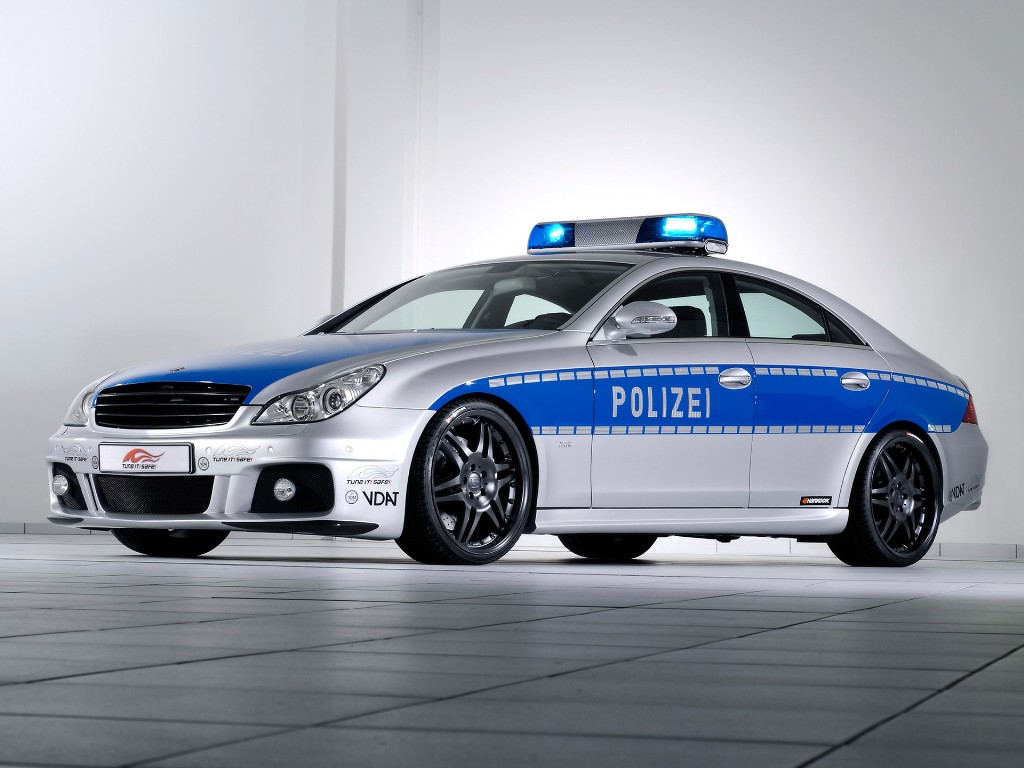 We know the Germans don't like being outdone. To keep up with the UAE, they received delivery of this amped-up Mercedes CLS that can keep up with almost anything out there. With a top speed of 225 even on the autobahn this car can keep up with anything. However, the German Secretary of Transportation decided the police force should follow their campaign to get the public to modify cars responsibility and to drive safe. Shame we can't see this rocket on the road. 
1. Bugatti Veyron (UAE) – 2.5 seconds; 268 mph
Despite having a wealth of supercars, we guess the commissioner of the police department decided that wasn't enough. So the Dubai police decided to get them the world's second-fastest car. Where most police department buy cars to catch most cars on the road the Dubai police buy cars to catch everything on the road. We are just waiting for them to buy a Hennessey Venom GT. Also can someone tell the Dubai police department that giving officers a Rolls Royce is just asking them to be lazy.