If you are a die-hard J-Cole fan then the title of this article may have confused you. "What about 2014 Forest Hills Drive, 4 Your Eyes Only and KOD?" Whilst those are very good projects they are not great. The most frustrating aspect of J-Cole's rap careers is we know he has the skill to be one of the best on the mic, yet, with every release he falls short of the mark. He best encapsulates this on the song 'Let Nas Down', Cole raps "But while I shot up the charts/ You mean tellin' me that I was not up to par". The song come from a situation between Cole and Nas, after hearing the J-Cole's single 'Work out' Nas was not impressed. In some ways Nas and Cole do have something in common both have a vast amount of talent, yet fail to deliver. However, in Nas' case Illmatic is a certified classic and the album is pure perfection in every sense of the word, it was hard for Nas to top perfection with his later releases. Although 'It Was Written' came close, Jay-Z took shots at Nas for his decrease in quality "One was "nah," the other was Illmatic/ That's a one-hot-album-every-10-year average/ And that's so (lame)". 
Cole latest effort KOD which has various meaning ( Kids On Drugs, King Overdose, Kill Our Demons). This is Cole's second foray into composing a concept album and again he falls flat. There are some cuts where Cole shines, on Kevin's Heart," Cole uses the comedians infidelities to reflect on the challenge of monogamy: "My phone be blowing up/Temptations on my line/I stare at the screen a while before I press decline." When Cole lets us into his world is when his music speaks volumes.  On "Once an Addict (Interlude)," Cole  recants his mother's drinking problem that was exacerbated when his stepfather had a child by another woman—even pinpointing the Marvin Gaye and Al Green songs she was listening to at the time.  The biggest problem with this album is that Cole attempts to tackle many of the same subjects Kendrick tackled on DAMN. But unlike Kendrick, Cole is too predictable, despite his die-hard fans claiming his music requires a certain level of intellect to listen to, he is very accessible. I imagine these same fans have never forayed into the music of MF DOOM, who because of his off-kilter flow and complex lyrics needs you really pay attention to his words. Overall, KOD comes of as the poor man's DAMN, Cole told us the album was made in two weeks, we would've  deciphered that fact without his input because of the quality.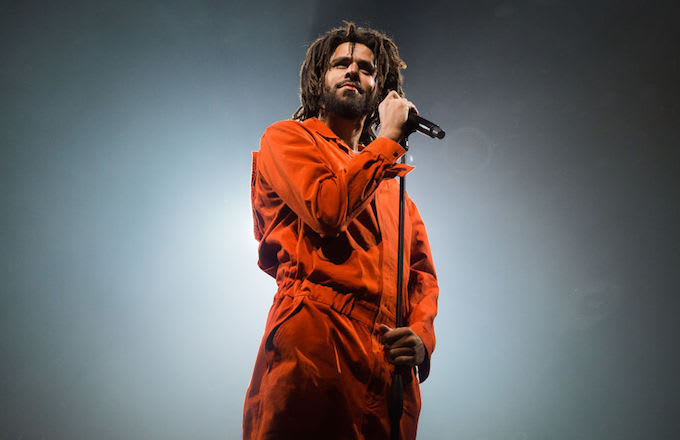 This article is not an attempt to bash Cole, rather, I would like to Cole to go back into the studio and finally give us the solid album I know Cole is capable of producing. On the topic of producing, this is another reason many praise Cole, in fact the phrase  'platinum with no features', is synonymous with 2014 FHD.  Congratulations to Cole for producing his own sound but there is a reason some of the greatest rappers and musicians have left this aspect to others. Lets face it the production on FHD was nothing special, compared to other projects that came out that year such as Killer Mike and El-P's Run the Jewels 2, and Freddie Gibbs and Madlib's effort  Piñata . Both albums had seasoned lyricists who left their production to someone else. On RTJ2 El-P's eclectic, loud and paranoid production pairs beautifully with Killer Mikes hard-hitting raps which he delivers with urgency as if time is running out.
Will we ever get the a classic album from J-Cole? Will we ever find out the identity of kiLL Edward? Did J-Cole let Nas Down? Find out next time on…