The fashion world right now seems like its full of designers who are trying to outdo themselves in a competition of who can make the ugliest, most pretentious garbage. It's normal for the fashion world to present downright ridiculous clothes occasionally — we expect it — but lately it seems that ridiculousness has become the new fashion trend.
A couple of weeks we wrote an article on Calvin Klein's Raf Simons-designed line Calvin Klein 205W39NYC which released a pair of kitchen gloves priced at $300. This is just a sample of how ridiculous fashion has become, we have looked at some of worst trends that a popular right now. You can choose for yourself if they are trash or sophisticated fashion statement simple-minded people cannot grasp. 
Ugly Sneakers
Yes, there is a trend based solely on creating the chunkiest, ugliest and most uncomfortable foot wear all in the name of fashion. Balenciaga are the pioneers of this trend, what is confusing is that in recent year companies such as Nike, New Balance and others have been researching new technologies to make shoes lighter, more streamlined and better adapted to our feet. The ugly sneaker trend completely throws that out of the window.

Look they put emoji's on the shoe's tongue it's so 2018 because we are always using emojis in our messages.
I don't care what anyone say, there is no way these are comfortable to wear. 
The Virgil Abloh effect.
Anyone who is familiar with Off White and Virgil Abloh knows he likes to write things on his clothes. And no it's not groundbreaking thoughts, more like writing "shoelace" on you guessed it a shoelace… Deep… Though provoking… 
You can usually see people wearing Off White with the red zip lock still on the sneakers because wearing shoes with things in quotation marks scattered around isn't stupid enough.
Deppresing Models
This isn't an attack on clothing but on the photographers and designers who instruct the models during shoots. I'm tired of seeing models trying to channel depression.
Anything Yeezy 
I will admit, the Yeezy trainers are not that bad, I could see myself wearing them but the Yeezy clothing is good for one thing and that is the garbage can.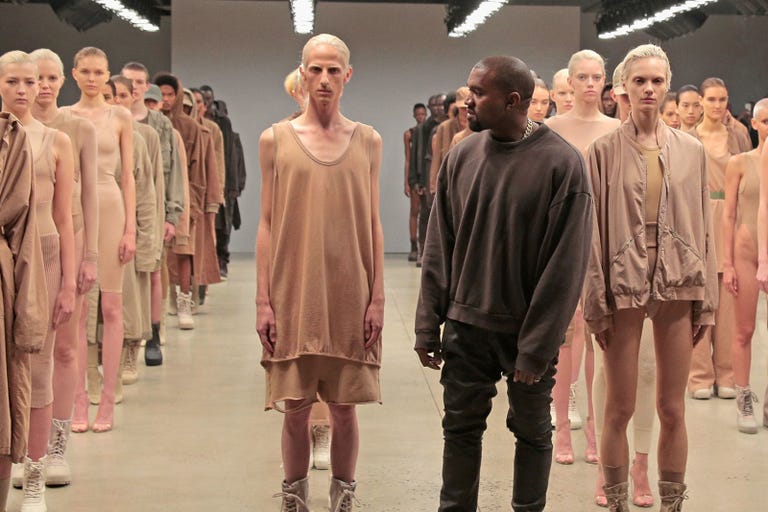 Seriously? These are the kinds of clothes you see in film that takes place in dystopian future where half of humanity has been wiped out and the only clothes available are the ones you have to pull of corpses (sorry for going dark). 
Comment below with what you think is the worst thing in fashion right now.