YouTube is now a very lucrative platform, you may have laughed at your friend who started uploading videos of himself when the platform was still in its infancy. But now a seven-year-old is now earning $22 million we may start to see more people trying to become the next YouTube top earner. 
Forbes released a list of the top earning YouTube channels. 
The estimate by Forbes magazine found that Ryan of Ryan ToysReview pipped Jake Paul by $500,000 for the 12 months to June. 
Videos are posted most days and one promoting a blue giant mystery egg bearing Ryan's face has had more than a million views since Sunday.
Behind Ryan was Dude Perfect making $20m, Forbes said.
Ryan's earnings, which do not include tax or fees charged by agents or lawyers, have doubled compared with the previous year.
Asked by NBC why kids liked watching his videos, Ryan – who is now eight – replied: "Because I'm entertaining and I'm funny."
The channel was started in 2015 by Ryan's parents in 2015 and is now at 26 billion views and 17.3 million subscribers. Forbes say only $1 million of the $22 million is generated by advertising shown before videos, with the remainder coming from sponsored posts.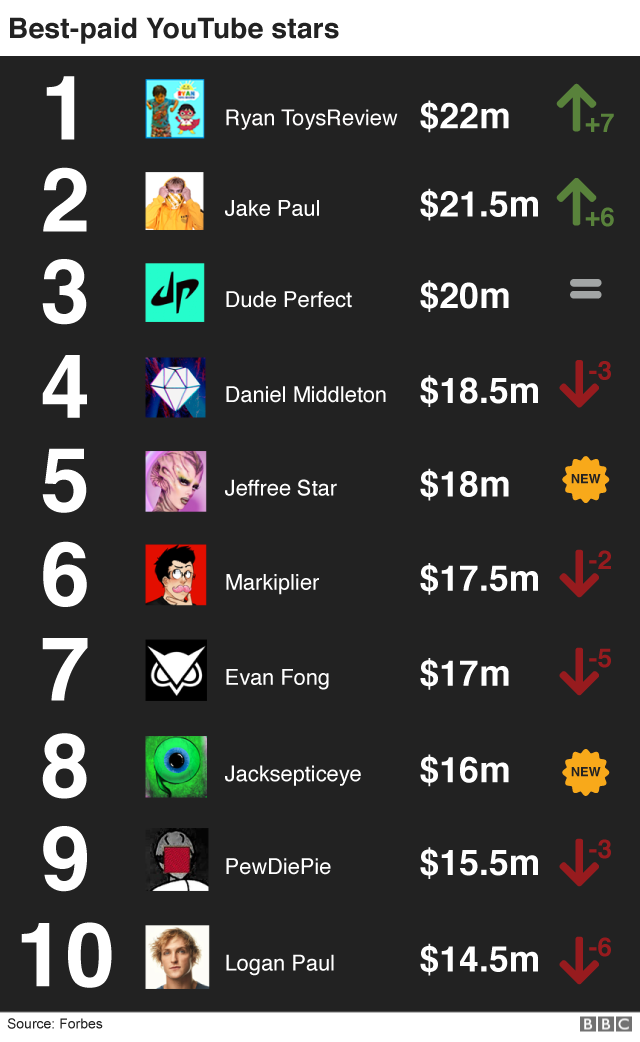 The amount generated by sponsored posts is small compared with other top YouTubers, Forbes writes. It is "the result not only of how few deals Ryan (or his family) chooses to accept, but also the fact that his pint-sized demographic isn't exactly all that flush".
If you are still doubting Ryan's advertising power, he recently signed a deal with Walmart selling an exclusive range of toys and clothing called Ryan's World, and a video showing Ryan and his parents searching for his own toys at a Walmart store has had 14 million views in three months.
The only downside for Ryan is that since he is still a minor the 15% of his earnings into a bank account that he can only access when he becomes a legal adult.