The Best Breakfast Spots In London!
There is only one more day to trudge through and then you can relax on the weekend. 
We have compiled some of the best spots you can get a tasty breakfast in the capital.
We will start off with the healthy option because at most only on person will consider this.

LINO
If you're watching your weight and have finally got a gym membership, new Clerkenwell spot Lino offers healthy fare that will still fill you up. Try the buckwheat pancakes with poached citrus, the rolled oat porridge or their house cured salmon with soured cream, soft boiled egg and rye.
If you want to start your weekend right, there are pastries, a full english breakfast and cheese toasties on offer.

Breakfast With A View:Duck & Waffle
The Heron penthouse is one of our favourite properties, Perched on the 40th floor of the Heron Tower is Duck & Waffle. This is a 24-hour restaurant, but if you are up in the morning you can get some of their best dishes duck egg en cocotte with wild mushrooms, Gruyère, truffle and toast soldiers.
Duck and Waffle, 110 Bishopsgate, London EC2N 4AY

A Middle-Eastern Wake Up: Berber & Q
This is a go-to spot for authentic middle East cuisine, we think because of the guys at Berber & Q are the reason most places are adding Shakshuka to their menu. A Middle Eastern dish where eggs are poached in tomatoes, peppers and spice, there is also Lamb bacon chops or Moroccan campfire pancakes with quince and sweet labneh.
Berber & Q, 338 Acton Mews, London E8 4EA

A Twist On A Bacon Sandwich: Dishoom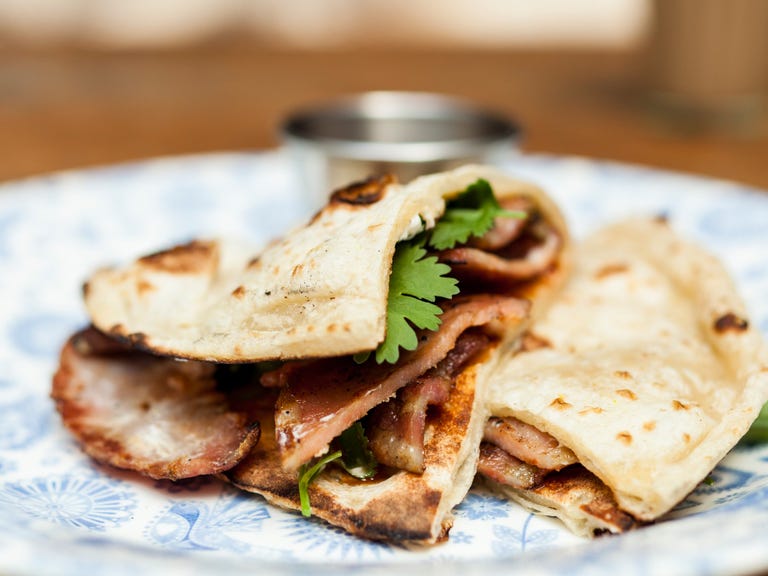 By now the famous bacon naan roll at Bombay cafe Dishoom is common knowledge. It seems so logical that nan and bacon would go perfectly together and thank god Dishoom put this together. You can also order he kejriwal, an Indian twist on cheese on toast with chilli, spring onion and a runny fried egg.
Dishoom, 12 Upper St. Martin's Lane, London WC2H 9FB.

Breakfast In Bread: Barge House
Regent's canal Barge House serves a totally unique breakfast concept which encases a cooked breakfast inside a crispy, chewy giant white bread roll. You can go for the classic with bacon and full English trimmings, vegan and vegetarian rolls, a smoked salmon topped version or one with chorizo and hot beans.
Barge House, 46a De Beauvoir Crescent, London N1 5RY